I have fond memories of The Beach Bus… my friends and I started using the local service when I was in 8th grade (many years ago) and we continued riding until the first of our group got a car.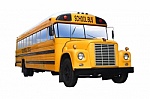 The cost is $2 each way, and there are 3 pick-up locations in Agoura Hills for drop off at Zuma Beach. Bring a photo ID (driver's license, school ID or home-made emergency contact card) and exact change. You can bring boogie boards and beach toys.
The schedule is HERE
Pickup locations are LCMS, AHS and Liberty Canyon. Looks like first pickup time is at 9:15 and last bus leaves Zuma at 6:10. There are even special times for kids involved in the Jr. Lifeguard Program.