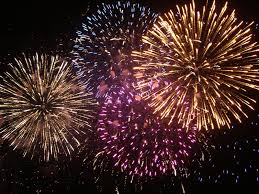 The City of Westlake Village is celebrating the 4th of July with an extra bang this year — the city will be hosting its own fireworks show.
Before the show, you can join in on the 45th annual Westlake Village 4th of July Parade. The 8 a.m. pancake breakfast will give you energy to walk the four-block parade route that ends at Berniece Bennett Park. After the parade, you can stay and watch a U.S. Flag Retirement Ceremony that will be performed by my son's Boy Scout troop — Troop 485. Residents can stay and enjoy free activities, music and popsicles.
The firework show will take place over the Westlake Village Golf Course.
If you can't make it to the Westlake Village fireworks show, there are other local opportunities.
The City of Moorpark will light the sky on fire on July 3rd.  Thousand Oaks will put on a dazzling display behind The Oaks Mall on the 4th of July.  A few days later you can pop over to Chumash Park, here in Agoura Hills, and listen to an Elvis tribute concert, followed by a firework show.  I have attended the Agoura show for the past 4 years and it is always great.
Find out more at:
http://www.conejovalleyguide.com/welcome/4th-of-july-fireworks-parades-and-other-events-around-ventur.html
http://conejovalley.happeningmag.com/westlake-village-hold-july-4th-fireworks-time/